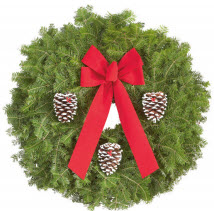 Please Note: This information is only valid for 2021. Forward any questions to Kyle (email | phone: 612-386-8447).
The 2021 wreath catalog can be downloaded here. Prices are marked for all items currently being sold and available.
Average profit from each sale is $10. Funds raised go to support the Scout and the Troop, with the majority going directly the Scout's account to assist in paying for camps and other scout-related activities.
All orders must be turned in by October 18th Troop meeting.
Deliveries currently scheduled between November 16th and November 23rd. All orders expected before Thanksgiving.
Door to Door Sales Instructions:
Cash or check is collected from customers at time of order. If the customer pays with a check, write scout's name in the memo on the check. Make check to Troop 119.
Give your customer a contact slip.
At the end of the sale, you will be given a form to tally your orders. Scouts will keep their order forms so they know what to deliver and where.
Scouts should write their name on checks in the Memo line if given a check.
Helpful Files:
Use the following electronic form (Excel Document) when turning in your Wreath Orders on 10/18/2021. It is suggested that Scouts enter in their orders, as the Excel Document will complete all the necessary calculations. Then the Scout need only print off the document for submission.
Remember: Families need to keep their original order forms to aid their deliveries and to make sure they have all the items they ordered when wreaths are picked up next month.