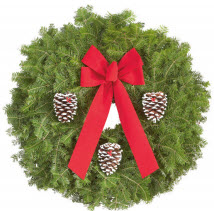 Please Note: This information is only valid for 2019. For questions and further details, contact Mrs. Everett (call at 952-261-4156 or email at maurine.everett@gmail.com).
Important Dates:

September 3rd: Wreath sales have begun!
November 4th: Orders and money due
November 21st – 23rd: Order pick-up and delivery

Important Documents:
Door to Door Sales Instructions:
Cash or check is collected from customers at time of order. If the customer pays with a check, write scout's name in the memo on the check. Make check to Troop 119.
Give your customer a contact slip (see "Wreath Contact Slips (PDF)" under Important Documents) with your name and troop contact info.
At the end of the sale, you will be given a form to tally your orders. Scouts will keep their order forms so they know what to deliver and where.
Scouts will receive 67% of the profit. That is about $7-8 per item.
Scouts should write their name on checks in the Memo line.
Friends and Family Online Sales Instructions: